Dimensions

Overall

Inside

Window

Width

42.5"

42"

25.5

Height

63"

24"

10.5"

Depth

24.5"

24"

-

Weight

250 lbs.
16 gauge heavy duty steel
Long lasting powder coating
Welded Construction
110v Electric
 Jet Stream Two Engraving System
Dimensions

Overall

Inside

Window

Width

42.5"

42"

25.5

Height

63"

24"

10.5"

Depth

24.5"

24"

-

Weight

250 lbs.
16 gauge heavy duty steel
Long lasting powder coating
Welded Construction
110v Electric
Clamshell Design For Easy Front Loading
Portable For On-Site Engraving
Built For Production
Professional Results
Large Viewing Window
Oval Access Holes For Easy Reach
Designed For Comfort
Designed For Left Or Right Handed
Side Door Access
Made In The USA
100lb Vortex Mix Grit System
Exclusive vortex mix grit system
40 lb professional grade hopper
Dual filtration dust collector
Foot control for instant on/off operation
50lbs of abrasive recyclable grit
Tungsten carbide nozzle
Complete video training program
Dual Stage Filtration System
High Performance / Maximum Efficiency
Maximum Visibility
Dual Stage Cartridge
Dual Stage Filter
Heavy Duty Motor
Power Clean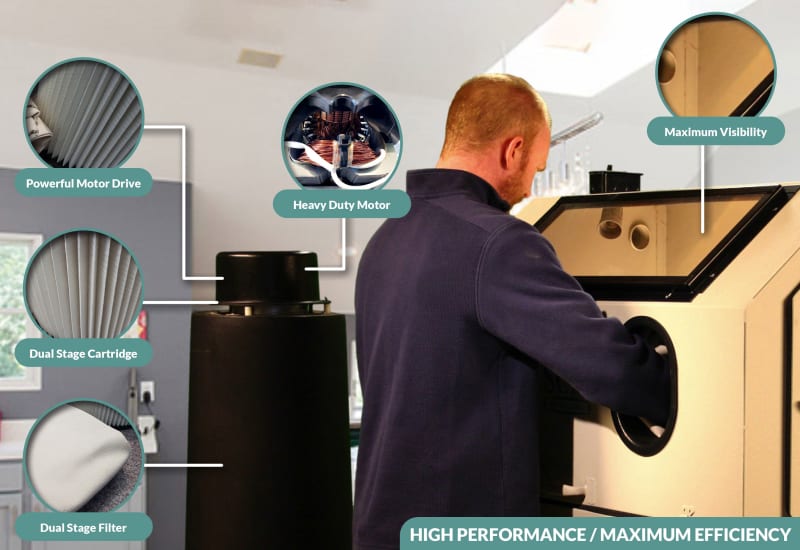 Engrave Everything from Small to Large to in Your Shop to Going Portable
Magnum Force Stencil Cutter
Built for precision and speed.
Cuts the thick 42mil Blast Mask
Quad Grip Roller System
Heavy Duty Servo Motor
Extra Strength Rail System
5 Years Rock Solid Warranty
Simple To Use True Vector Software
Unlimited Size Capability
Create One Of A Kind or Production Capabilities
750 Gram Cutting Pressure
Photo Image Stenciling System
10ea sheets of 3mil High Detail film 10" x 12"
1ea Bottle of Adhesive
Laser and inkjet vellum
1ea Trigger Sprayer
1ea Squeegee
1ea Adhesive applicator
1ea Clip Board
Full video instructions
MARKETING AND PRICING GUIDE
This package is what SCM is known for. SCM has been in the personalization business since 1988. You will benefit from our experience and the 1,000's of satisfied customers worldwide. This guide will take the mystery out of pricing your products and services in the personalization business. SCM will go through hundreds of products and provide guidelines on wholesale and retail prices. You will know what you should be charging per hour, along with giving you guidelines on how to approach the most popular markets out there, types of prospects, and businesses. 
SCM has an extensive video training program for you. Our training videos will take you through every tip and trick of our trade. There will be no guessing on how to set up your equipment or how to use it. SCM's extensive training videos will walk you through all the needed steps on how to deeply carve a river rock to a finely etched champagne flute. You will learn the beautiful technique of multi-stage carving deeply into glass and even how to go portable with our equipment. Each technique is different and SCM's expertise is shared with their customers in these unique training videos. You will learn how to etch into a wide variety of surfaces including glass, stone, wood, metal, and also how to add color to your projects for display items and also products that are going to stay outdoors. You will receive hours of valuable instructions that is a must!!!
TOLL-FREE TECHNICAL SUPPORT (LIFETIME)
When you become an SCM customer, answers to all your questions are available at your fingertips via our toll-free telephone support system. Whether it's a technical question, product inquiry, or any other question, we'll be there with the help when you need it.
SCM's marketing support line is a valuable service to aid our customers in pricing and promoting their services. This service includes how to price and promote your services. All you have to do is call. Lets say you have to quote a customer for a large project and you want to be sure you are going to give the proper price. Just give SCM a call and we will walk you through every step so that when you present your price you will be confident you are not to high or to low. This confidence will show in your presentation. This support will help you in the beginning of your business and further on as your business grows.
NOTE: AN AIR COMPRESSOR RATED AT 10CFM AT 90PSI OR HIGHER WITH A 60 GALLON TANK IS REQUIRED TO OPERATE THE SYSTEM. AN AIR COMPRESSOR IS NOT INCLUDED. PLEASE CALL WITH ANY QUESTIONS ON WHAT TYPE OF AIR COMPRESSOR TO PURCHASE AND WE CAN HELP YOU.
Every Surface Becomes a Canvas
Large Stone Signs
Address Stones
Rocks
Fund Raising Bricks
Multi-Stage Glass
Tile
Wood
Gifts
Portability
Carving Metal
Acrylic
Awards
Photographs
Personalization
Pet Memorials