Large Stone Signs
Address Stones
Rocks
Fund Raising Bricks
Multi-Stage Glass
Tile
Wood
Gifts
Portability
Carving Metal
Acrylic
Awards
Photographs
Personalization
Pet Memorials
      Jet Stream Two (Carving System)
Dimensions

Overall

Inside

Window

Width

42.5"

42"

25.5

Height

63"

24"

10.5"

Depth

24.5"

24"

-

Weight

250 lbs.
16 gauge heavy duty steel
Long lasting powder coating
Welded Construction
110v Electric
The heavy duty Jet Stream cabinet comes with a large viewing window and easy access side door.
Exclusive vortex mix grit system
40 lb professional grade hopper
Dual filtration dust collector
Foot control for instant on/off operation
50lbs of abrasive recyclable grit
Tungsten carbide nozzle
Complete video training program
Dual Stage Filtration System
High Performance / Maximum Efficiency
Maximum Visibility
Dual Stage Cartridge
Dual Stage Filter
Heavy Duty Motor
Power Clean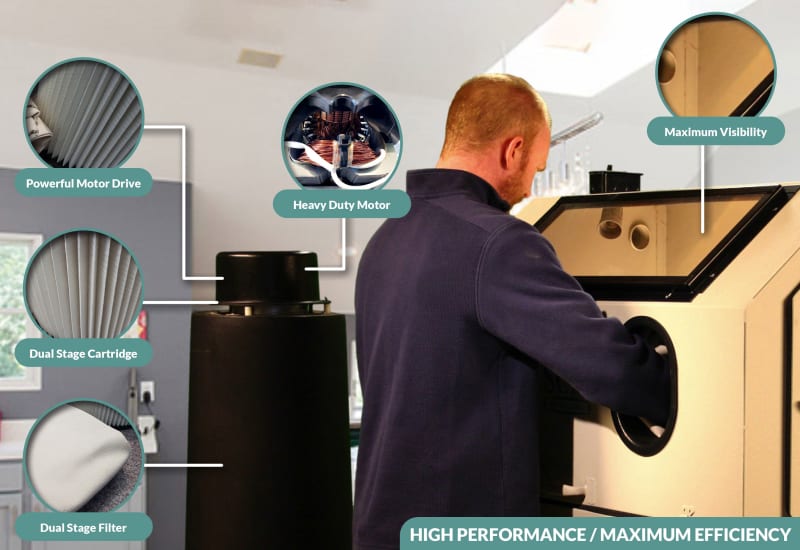 Engrave Everything from Small to Large to in Your Shop to Going Portable
Magnum Force Stencil Cutter
Built for precision and speed.
Cuts the thick 42mil Blast Mask
Quad Grip Roller System
Heavy Duty Servo Motor
Extra Strength Rail System
5 Year Rock Solid Warranty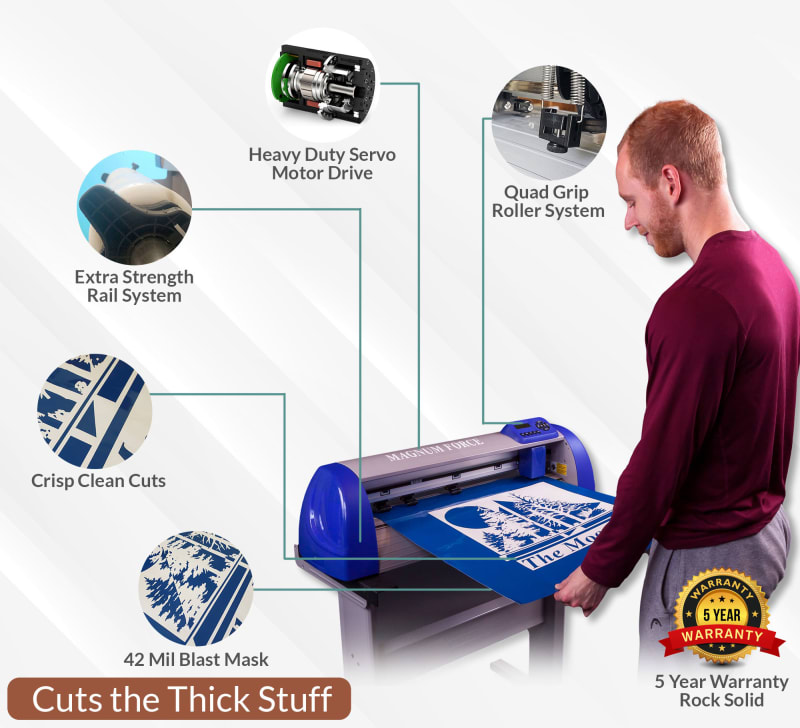 MARKETING AND PRICING GUIDE
This package is what SCM is known for. SCM has been in the personalization business since 1988. You will benefit from our experience and the 1,000's of satisfied customers worldwide. This guide will take the mystery out of pricing your products and services in the personalization business. SCM will go through hundreds of products and provide guidelines on wholesale and retail prices. You will know what you should be charging per hour, along with giving you guidelines on how to approach the most popular markets out there, types of prospects, and businesses. 
INSTRUCTIONAL DVD
SCM has an extensive video training program for you. Our training videos will take you through every tip and trick of our trade. There will be no guessing on how to set up your equipment or how to use it. SCM's extensive training videos will walk you through all the needed steps on how to deeply carve a river rock to a finely etched champagne flute. You will learn the beautiful technique of multi-stage carving deeply into glass and even how to go portable with our equipment. Each technique is different and SCM's expertise is shared with their customers in these unique training videos. You will learn how to etch into a wide variety of surfaces including glass, stone, wood, metal, and also how to add color to your projects for display items and also products that are going to stay outdoors. You will receive hours of valuable instructions that is a must!!!
TOLL-FREE TECHNICAL SUPPORT (LIFETIME)
When you become an SCM customer, answers to all your questions are available at your fingertips via our toll-free telephone support system. Whether it's a technical question, product inquiry, or any other question, we'll be there with the help when you need it.
SCM's marketing support line is a valuable service to aid our customers in pricing and promoting their services. This service includes how to price and promote your services. All you have to do is call. Lets say you have to quote a customer for a large project and you want to be sure you are going to give the proper price. Just give SCM a call and we will walk you through every step so that when you present your price you will be confident you are not to high or to low. This confidence will show in your presentation. This support will help you in the beginning of your business and further on as your business grows.
NOTE: AN AIR COMPRESSOR RATED AT 10CFM AT 90PSI OR HIGHER WITH A 60 GALLON TANK IS REQUIRED TO OPERATE THE SYSTEM. AN AIR COMPRESSOR IS NOT INCLUDED. PLEASE CALL WITH ANY QUESTIONS ON WHAT TYPE OF AIR COMPRESSOR TO PURCHASE AND WE CAN HELP YOU.
Featuring the Power Carver 400xs!
This is the most advanced engraver on the market today with over 30 years of engineering ingenuity behind it.
Engrave nearly any surface
Wood
Metal
Gourds
Eggs
Glass
Bone
Scrimshaw
Many more!
Don't Take Our Word for it, Here is What Wood Magazine had to say. They Rated us Excellent across all categories:

Here's How Better Homes and Gardens Wood Rated the 400xs...
| Performance | Rating |
| --- | --- |
| Handling | Excellent |
| Comfort | Excellent |
| Ease of Operation | Excellent |
| Maintenance | Excellent |
| Noise | Excellent |
"

Our testers felt the contoured pen shape of the SCM 400xs makes it the most comfortable to hold.
"

In the quality of construction, we were impressed with the quality of the machining on the SCM 400xs handpiece.
"

We like the exhaust jets located in the tip of the nose on the SCM 400xs. The jet blows away dust, making it easier to follow pattern lines.
Unleash Your Detail
Built for Precision and Speed.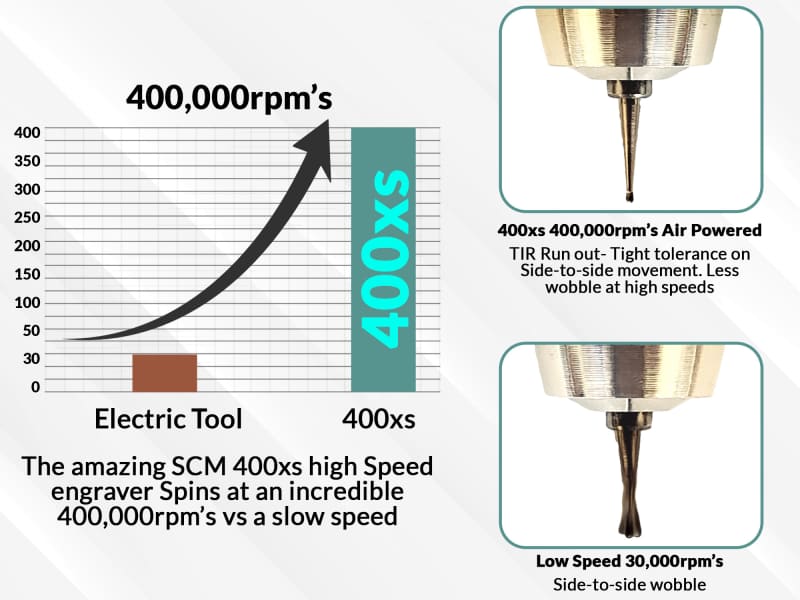 World's Fastest Engraver
Power and Control Never Felt So Good.
ULTRA QUIET AIR COMPRESSOR
As quiet as someone talking
Perfect for condos/apartments!
¾ Hp, 4.7 gal tank & 60 decibels. 18"x20"x9" & 46lbs.
PRECISION AIR
Never worry about moisture
Provide precise clean dry air to your Power Carver 400xs
Attractive acrylic stand
YOU DON'T HAVE TO BE AN ARTIST!!!
SCM's engraving self adhesive stenciling process allows for even the people who failed art to be able to create beautiful works of art.
1. Print and Place the Stencil
2. Trace your lines and produce PROFESSIONAL RESULTS!
You will receive 25 blank stencils! You are only limited by your imagination. Print any artwork or design onto SCM's stencil paper and you will be able to produce professional results right away.
Premium 21 Diamond, 36 Carbide & 8 Composite Polishing Bits
Engrave with the utmost detail around with SCM's premium bits!
All bits will engrave on all surfaces
Each bit gives unique lines, textures, and finishes
Each bit is rated for 400,000 rpms
Comes in inventory case to store
Receive EVERY bit SCM has!
Over 750 Artwork Designs
12 of our largest artwork packages
Wildlife
Scroll
Water Life
Floral
Gunstock
Southwest
Eggshells
Many More!
3 Training Videos from the Best Teachers in the US
Learn how different bits give different results on different surfaces
Get industry tips & tricks
Soon it will be like you have been engraving for 30+ years
Lifetime Support
This service is what SCM is known for
Call 1-800-755-0261 to speak to someone who has used the PowerCarver 400xs for years
We are always here to help with any questions you could have
Complete Training
Over 4 hours of video giving you tips and techniques we've learned over our 30+ years of experience
Step by step training on how to easily set up your system
GO PORTABLE
Professional carrying case
Store your entire system with ease
Lifetime Marketing/Pricing Support
Learn how to price/promote your services
Utilize our 30+ years of experience
EVERY POWERCARVER 400XS ACCESSORY!
Foot Control
Instant on/off control
Handpiece Cradle
You can use this widget to input text into the page.
Utility Box
Hold all of your 400xs accessories in one place
Cleaning Stone
Clean around the diamond particles of the engraving bits
Finish Brush
Remove leftover debris from your engraving surface and smooth out rough edges all while not damaging your product
Stencil Remover
Easily remove your stencil or excess material
Extensive Supply Source
Never worry about where to get engravable items
30+ years of experience of where to get the best items